Domino Cap for 0.825L Cartridges
| | |
| --- | --- |
| Categories | For Domino |
| Album | View larger image |
| Type | Domino Cap for 0.825L Cartridges |
| Use for | For Domino empty cartridge 0.825ml |
| Business scope | Office,Factory,Advertisements... |
| Material | Plastic |
| MOQ | 1pc |
| Port | Guangzhou |
| Quote for | FOB |
| Color | White&Yellow |
| FOB port | FOB GuangZhou |
| Terms of Payment | L/C, D/A, T/T, Western Union, MoneyGram, Paypal |
| Update Time | 2018-04-21 |
Detail Information
| | |
| --- | --- |
| Description | Domino Cap for 0.825L Cartridges |
| Item number | N/A |
| Used for | For Domino MC CARTRIDGE |
| MOQ | 1set |
| Stock | Full QTY in stock |
| Matreial | PP |
| Color | As picture show |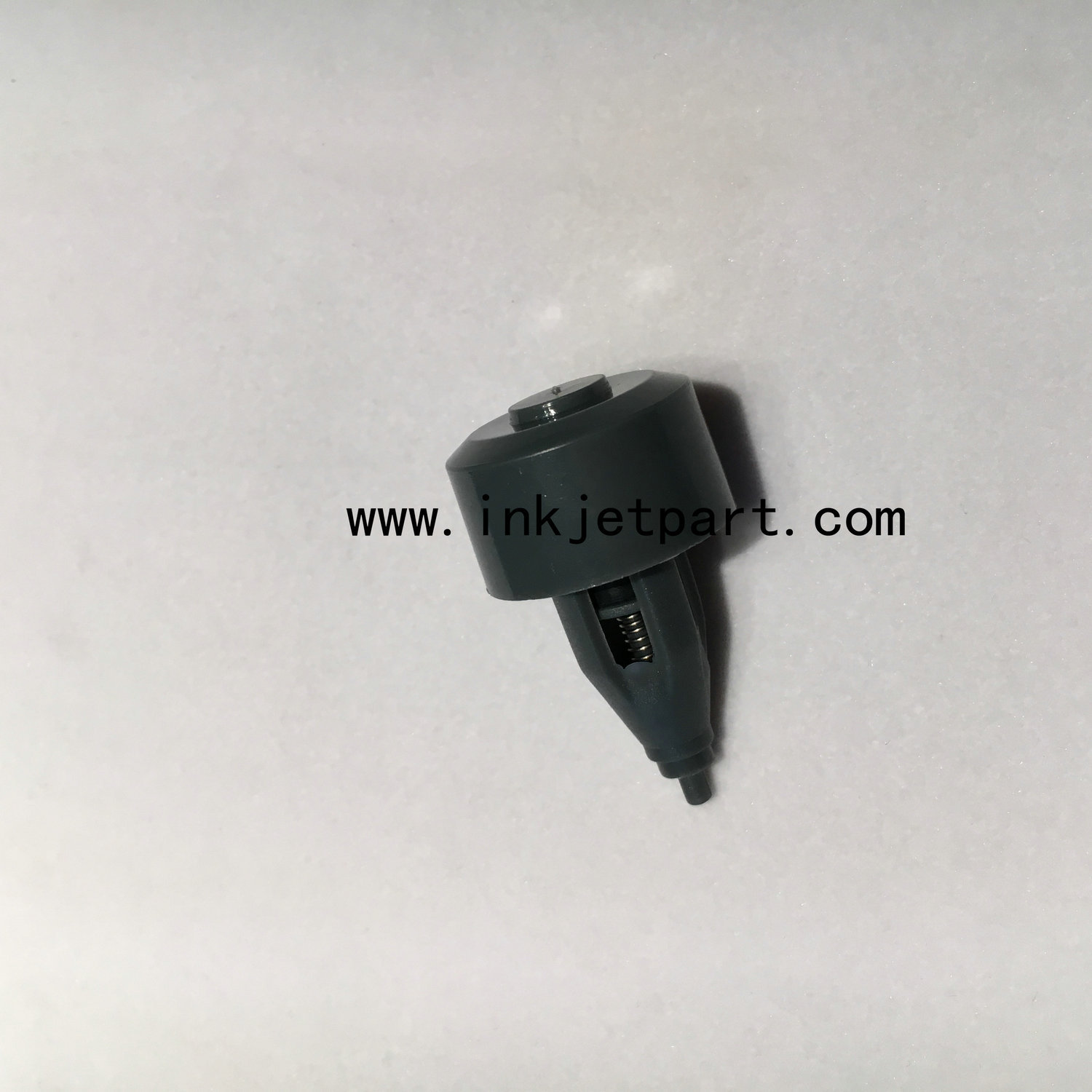 Others spare parts for Domino for your reference:
Model No.
Descriptions
Model No.
Descriptions
Main Filter
37727
LCD Assy Larger notVGA
Gutter Filter 20micr
36731
Printhead Cover A-Serie(Holster STD)
Solvent Filter
36734
Cover
Inline filter
23511
Domino Pump Repair Kit
Damper
36715
Sensor Tube Stb Assy
Solenoid Valve
36828
Strobe LED assy for A-series
Solenold Valve 2Way (24V3.8W)
37711
Domino PCB ASSY Control
Nozzle assembly 75m A-serie
37726
Menbrane For Domino E50
Nozzle assembly 60m A-serie
36675/36676
A Series English Membrance
Nozzle assembly 50m A-serie
36991
Wash Station MTG
Drive rod assembly
36994
Domino Heater Spares Kit
PCB Assy Front Pane
37708
Air Filter
PCB ASSY Ink System Interface
45411
Domino Charge Electrode Assy 75U MK3
Dual Pump with Motor
37772
Nozzle venturi
Deflector plate
45191
Thermistor kit type 1 (SPARES)
Sensor pressure(transduceer)
36722
Cam
Make up Mainfold Assy
37732
Temp sensor plug assy
ink Mainfold reservoir
15003
key
Power supply
36727
Grommet Retaining Screw
Domino A+ power supplier
36719
Adjusting Screw
Replace Viscometer
36721
Scrw Locking
A100 A200 A300 FAN
36610
Dual Pump Without Motor (replacement)
36829 strobe LED PP assy
DB04203 SCREW PAN SLT ST ST M2X12
DB04205 SCREW PAN SLT ST ST M2X8
DB04207 SCREW PAN SLT ST ST M2X5
DB04368 SCREW SKT CAP ST M2X5
DB04530  KNOB KNURLED M5 NYLON FOR DOMINO A SERIEs
DB04567 THUMB KNOB MALE M5 X 10 ST ST A SERIAL
DB04728 SCREW CSK POZ ST.ST.M3*6 FOR DOMINO A SERIES
DB04732 SCREW CSK POZ BLK NI M2.5X6 
DB26798 PLATE MOUNING
DB26856  DRIVE ROD ASSY 128KHZ
DB26868 NUT DRIVE ROD CLAMP
DB26871 Retainer for Domino A series 
DB26898 DRIVE ROD CAP FOR DOMINO A SERIES
DB28161  PRINTHEAD MOUNTING PLATE INKJET PRINTER
DB36700 STD PRINTHEAD ASSY,CONDUIT
DB36702 CONDUIT 3M, STD ASSY FOR DOMINO A SERIES
DB36706 TUBE CONNECTOR GUTTER (BLACK)
DB36715  SENSOR TUBE STD ASSY 
DB36717 CHASSIS STD FOR DOMINO A-SERISE
DB36718 DROP GENERATOR MOUNT
DB36719 ADJUSTING SCREW
DB36720 ADJUSTING SHAFT
DB36721 SCREW, LOCKING
DB36722 CAM
DB36723  GUTTER TUBE
DB36724 GUTTER TUBE CLAMP BLOCK 
DB36726  PIVOT DROP GENERATOR MOUNT F
DB36727 GROMMET RETAINING SCREW FOR DOMINO A SERIES 
DB36728 CHASSIS END BOX FOR DOMINO A SERIES
DB36729 END BOX COVERFOR DOMINO A SERIES
DB36730 END BOX COVER SEAL DOMINO A SERIES
DB36734 CHASSIS DOVETAIL FOR DOMINO A SERIES
DB36740 CHASSIS PINPOINT FOR DOMINO A-SERIES
DB36741  HOLSTER PINPOINT FOR DOMINIO A SERIES
DB36743 DEFLECTOR PLATE PP ASSY FOR DOMINO A SERIES 
DB36745 PRINTHEAD PP, 3M, STANDARD
DB36820 GUTTER TUBE ADAPTOR
DB36827  SENSOR PINPOINT ASSEMBLY(PINPOINT)
DB36836  EHT SENSOR 3M ASSY
DB36837  EHT SENSOR 6M ASSY
DB36994-PC0205 PC0205 HEATER SPARES KIT WITHOUT HEATER
DM36717-PC0188  SCREW KIT
DM36827-PY0226
DM36836-PC1000 CHARGE ELECTRODE SENSOR 3M ASSY
DM36836-PC1190  EHT SENSOR ASSY 4M(RED)
DM36836-PC1191  EHT SENSOR ASSY 4M(BLUE)
DM36836-PC1192  EHT SENSOR ASSY 4M(BLACK) 
45191 THERMISTOR KIT CB3/S6(SPARES)
EA0066 CONNECTION FOR CHARGE ELECTRODE
45426 C/E CARRIER MOULDING PP FOR DOMINIO PINTPOIN CIJ 
45431 CHARGE ELECTRODE ASSY 40U MK3 FOR DOMINO A SERIES
45462 DROP GEN 75U (SPARES) FOR DOMINO A SERIES
45463 DROP GEN ASSY 40U & 138BK 
50023  BRASS PINS CONNECTION FOR DOMINO A SERIES
50032 MAGNIFIER ON HOLSTER FOR DOMINO A SERIES
67813 GUTTER TUBE ADAPTOR(OPAOUE) FOR DOMINO A SERIES
DM-PP0028 Recycling Venturi  for A series
PC1154 SPRING COMPRESSION 1PSI ST.ST ASSY FOR DOMINO A-SERIES 
PC1155 SPRING COMP.50-150 PSI ST.ST ASSY
14186 SPRING COMPRESSION 1PSI ST.ST 
DM-14780-PP0062 Coil For Solenoid Valve Domino A Series
14830 SPRING COMP.50-150 PSI ST.ST FOR DOMINO A SERIES
37732 TEMP SENSOR PLUG ASSY FOR DOMINO A SERIES
37752  INK MANAGEMENT BLOCK ASSY
DM-37753-PY0101 MANIFOLD ASSY connector 
67808 OPAQUE INK MAN BLOCK ASSY FOR DOMINO A SERIES
13499 PLUG IP68 7WAY CABLE MOUNTING
13501  SKT IP68 9WAY CABLE MOUNTING
13538 INVERTER PCB ASSY
25036  USER PORT PCB
25109  PCB ASSY EXTERNAL INTERFACE FOR DOMINO A-SERISE
25112  FRONT PANEL PCB ASSY A200 FOR DOMINO A SERIES
25121 PC104 MEMORY EXPANSION PCB ASSY FOR DOMINO A SERIES
25125 USER PORT PCB-CP FOR DOMINO A SERIES
37720 FILTER TO SWITCH CABLE ASSY FOR DOMINO A SERIES
37719 SWITCH TO E.I.PCB CABLE ASSY FOR DOMINO A SERIES 
37717  CABLE FOR H.V. POWER SUPPLY
37737 CABLE ASSY BEACON PORT FOR DOMINO A SERIES
37738 ALARM PORT KIT FOR DOMINO A SERIES
37751 PELTIER OPTION KIT 
GP LCD DISPLAY
37775 RS232 COMMS OPTION KIT
37778 User kit PORT KIT A SERIES
37838  CABLE ASSY INVERTER TO SED FOR DOMINO A SERIES
Packaging & Shipping
Packing: In box,carton or as customer's requirement.
Shipping:By sea,by air,DHL,FEDEX,TNT,EMS,UPS,MAIL or as buyer's requirements.
FAQ
1. How could I buy products if there is no price on the website?
Buyers could send required product details via e-mail.
Then a reasonable quotation as request would be provided soonest.

2. How long could I get reply of my enquiry?
Buyers will get a reply within 24 hours.
3. How is the after sales service?
We will provide the tecnical support and if there is quality problems with the products,we will resend the new product for free to customers.
4. What are the terms of payments you offer?
Payment of the goods should be set in USD or RMB on the basis of goods exchanging.
Payment of T/T, Western Union, PayPal,  cash etc. would be accepted.
6. What kind of transportation methods you offer?
A. For spare-parts, express delivery like DHL, UPS, FedEx, TNT and EMS would offer us very good discounts.
But if buyers provide their own accounts, freight paid by such accounts are also welcomed.
B. For goods with large package, transportation would be offered by air and sea, and freight with buyers' prior delivery would be confirmed.
If you need more info or with any questions,pls contact me:
Sales maneger:Cherry Ye
Email:yonsung1@inkjetpart.com

Skype:Cherry64880
Linkedin:Cherry ye
Please send your message to us
*We will reply your inquiry to this Email as soon as we see it

Cherry Ye
Tel:

86-020-38283096
Email:
Address:

NO.150 Longkouzhong Rd,Guangzhou